MOORE AUCTION - Live
Saturday, June 11th, 2022 at 9a.m.

Sellers: The Family of the Late David Moore

In settling the estate of the late David Moore, the following real estate & personal property will be sold at auction.

Auctioneer's Note: David is no stranger the Fayette community where he lived and raised his family. David had a well-maintained country home just outside of Fayette. He worked for many years as an electrical engineer and owned and operated Moore Electric. This auction not only offers an opportunity to own a country home on small acreage; it also has a large selection of David's tools and supplies he used to run his business and maintain his farm. Come support the Moore Family as they settle the affairs of his estate.

Location: 231 State Hwy W, Fayette, MO 65248

Directions: From MO-240 southwest of Fayette, take State Route W approximately ½ mile to auction. Watch for signs day of sale.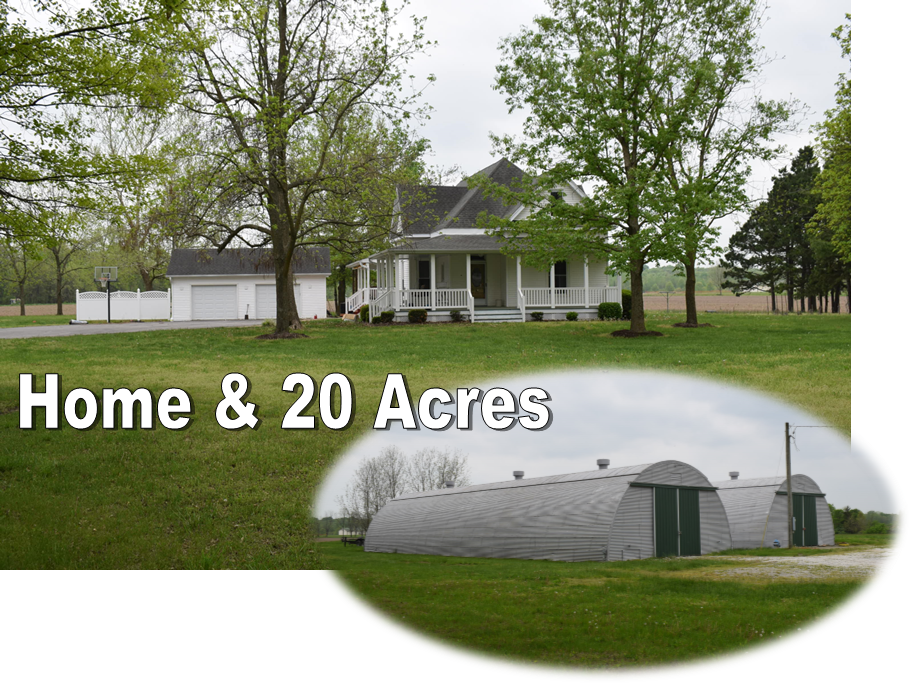 ...
Real Estate Sells at Noon
House and 20 acres more or less located just outside of Fayette in Howard County, Missouri. This 4 bedroom 3 bath home has approximately 2874 square feet of living area on the main 2 levels of the home with additional living areas in the basement. The home was built in 1910 and has a feel of the original farmhouse with a modern touch. The front entryway of the home enters into a hallway that leads to either the family room or the formal dining room. There is also a side entrance that opens into the eat-in kitchen and breakfast nook. Just off the kitchen is a bathroom and a utility room. There is also 1 bedroom on the main level of the home. The second story of the home features an addition 3 bedrooms and 1 bathroom. The partial finished basement has 2 additional rooms that could be non-conforming bedrooms as well as another bathroom and a common room. There is also a utility kitchen and additional storage areas in the basement. Other features of the home include covered front & side porches, 2-car detached garage and paved driveway. The home is situated along the road frontage of 20 acres m/l and has a sizable well shaded yard. Some of the acreage is currently leased for row crops and the income from 2022 will convey to the buyer. In addition, the property also has 2 quonset buildings that make great storage. This property is truly country living at its best. For more information or property view contact Cody Martin at 660-888-3460 or Teresa Martin at 660-888-9518.

Real Estate Terms: $15,000 down day of sale (non-refundable) in the form of personal check with bank letter or certified funds, balance due at closing within 45 days. The sale of the property is subject to the approval of probate court.
Personal Property
TRACTOR & IMPLEMENTS
2012 John Deere 5065E w/ Loader, 203hrs, 65hp Open Station, 4wd – Root Grapple Bucket Attachment – Pallet Forks - 8' Bush Hog 2308 – Frontier RC2084 7' Mower – Agri Cut 6' Rotary Cutter – 5' Disc – Tumble Bug Scoop 30" Pan

TOOLS
Rigid 12" Radial Saw on Stand MS1290L2 – Dewalt Table Saw – Milwaukee D18 Charger – Milwaukee Shop Vac – Milwaukee M12 Press Tool – Hilti TE7-C – Milwaukee M18 Fuel Deep Cut Band Saw – Milwaukee M18 Fuel 1" SDS Plus Rotary Hammers – Milwaukee M18 Fuel Grinder – Milwaukee M18 Fuel Super Hawg – Milwaukee Hole Saw Sets – Milwaukee Conduit Knock-Out Sets – Milwaukee Framing Nail Gun – Milwaukee Brad Nailer – Milwaukee Staple Gun -Milwaukee Metric Wrench Set – Milwaukee Pack-Out Boxes – Milwaukee Screw Shooter Kit – Milwaukee Drill Bits – Milwaukee M18 6-Ton Knock-Out Tool - Milwaukee Palm Sander – Klein Tools Laser Level – Hilti TE-10 – Milwaukee Hole Hawg – Milwaukee Sawzall – Milwaukee Fuel Circular Saw – Porter Cable Nail Gun – Greenlee 767 Conduit Knockout Set – Metrotech Ideal Hole Cutter Set - Large Selection of Milwaukee Tools - Rigid K4000T2 Snake – Rigid Kollman Mod K750 Snake – Ideal Open/Closes Circuit Tracer - Rigid Pipe Bending Stand – Rigid Pipe Threaders Wire Dollies – Fluke Tools – Master Force Tool Kit – Flir Thermal Camera - Double Wheel Grinders - Skil Warm Drive 7 ½" Saw – Craftsman Disc Bench Sander – Metrotech 850 – Greenlee Slug Buster Knockout Tool

SHOP RELATED ITEMS
Werner Ext Ladders 4', 6' & 8' – Dollies – HD Jacks – 5" Vise – Brothers & 3M Label Maker – 3/4 Ton Lever Chain Hoist – Dewalt Heavy Duty Contractor Air Compressor – Folding Aluminum Extension Ladder - Greenlee Job Box – Magnum ProX17 Paint Sprayer – Jack Stands – 3-Ton New Holland Jack – Dbl Stacked Stainless Tool Chest (12-Drawer) –Saw – Craftsman 7-Drawer Rolling Tool Chest - Extension Cords – Mr. Heater Contractor Series – Rigid Air Compressor – Craftsman 16gal Shop Vac – Casters – Homelite LR4400 Generator – Tow Straps

OUTDOOR, LAWN & GARDEN
Bob Cat Predator-Pro 61" Cut Zero Turn Mower Mod 942241E, 674.5hrs – Brave Log Splitter - Troy Built Garden Way Front Tine Tiller - Pull-type Lawn Cart – Pull-type Spreader – Polaris Trail Boss 300 4-Wheeler – Stihl MS290 Chainsaw - Stihl KM131R Straight Shaft Trimmer – Stihl KM111R Limb Saw Straight Shaft – Stihl Hedge Trimmer Attachments – Stihl Plus Series Older Weed Eater – Stihl FS 131R Straight Shaft Trimmer – Shovels & Hand Tools – Patio Furniture – Schwinn Le Tour III Bike – GX31 Honda Mini Tiller – Folding Picnic Table – 2-Burner Propane Cooker – Gas BBQ Grill – Old Metal Playground Slide – Concrete Bird Bath – T-Posts – 12' Gate

PLUMBING & ELECTRICAL SUPPLIES
PVC Pipe Fittings – New Breaker Boxes of Various Sizes – Rolls of Various Wire – Conduit – Switches & Plug-ins - Light Fixture – Hanging Lights - Large Selection of Misc. Elec. Supplies

PINBALL MACHINE
Space Odyssey Williams Electronics, Chicago, IL Pinball Machine

FURNITURE
26" Round Oak Claw Foot Dining Table w/ 1-12" Leaf – Elec. Dbl Recliner – 4-Leather Seated Dining Chairs – Oak Bar Stools (3 Swivel, 2 Stationary) – Butcher Block – Older Roll-Top Desk w/ Pigeon Holes - Oak Roll-Top Desk 33x54x54" (needs repairs) – 80" Oak Dining Table – Oak Side Board/Buffet 60" Long – Kitchen Island/Cabinet – 46" Oak Bench – Oak Pier Mirror w/ Griffin Heads – High Back Child's Rocker – Brown Leather Sofa & Arm Chair w/ Ottoman – Harwood Piano – Oak 2-pc. Lighted Hutch 60.5x18x 79" – Queen Size Sleigh Bed – Marble Top Rolling Cart – 5-Drawer Oak Chest of Drawers – 2-Drawer Pine Nightstand – 3-Drawer Oak Chest of Drawers – Oak Glass-Top Lamp Table – Oak Dresser w/ Wishbone Mirror – Glass Front Gun Cabinet – Queen Size Modern Mission Style Bed – Settee – 1-Drawer Nightstand – Victorian Arm Chair

APPLIANCES & TV
Frigidaire Commercial Refrigerator – LG Front Loading Washer & Dryer – Gas Stove – Stainless Side-by-Side Refrigerator – Chest Deep Freeze - 48" Vizio Flat Screen TV

HOUSEHOLD & HOME DÉCOR
Various Kitchen Wares – Angel Figurines – Bells – Various Trinkets – Music Boxes – Mini Tea Sets – Cake Stand – Punch Bowls – Various China – Area Rugs – Various Home Décor

This is a partial listing. Many more items are yet to be uncovered.

**Click to Enlarge Photo**
...
Cody Martin (660)-888-3460 Teresa Martin (660) 888-9518 Terry Quinlan (660)-888-9493